Friends of Melana
The Friends of Melana Foundation was established in Garrettsville, Ohio, in honor and memory of Melana Matson, who lost her battle with children's glioma cancer in 2009 at the age of 9. Our hope is that no child, no family, no community will ever have to experience what Melana did again.
FOM sponsors an annual 5k and 1 Mile Fun Run during the Garrettsville Summerfest and other fundraisers to support much-needed research leading to a cure for glioma cancer. To date, FOM has raised over $100,000 in funding for children's glioma cancer research.
In 2011, Friend's of Melana joined forces with their parent foundation, Prayers From Maria Children's Glioma Cancer Foundation. In recognition and appreciation for Friends of Melana's contributions, the Children's Glioma Cancer Foundation named one of the grants The Melana Matson Memorial Grant, the first grant awarded in honor of a stricken child.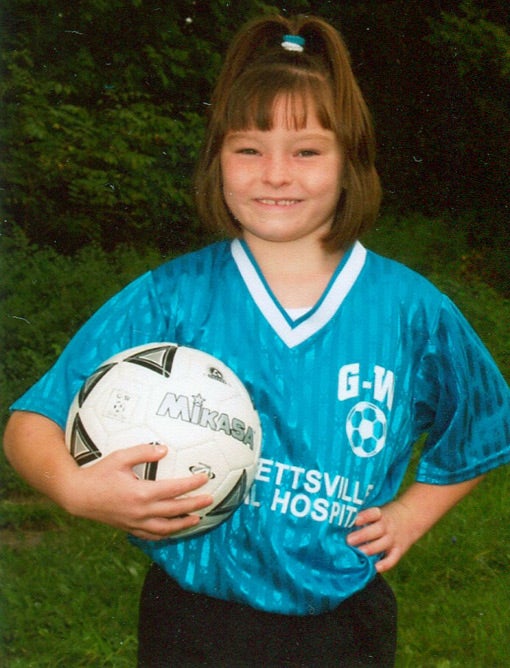 ---
Pray4Jax
Pray4Jax is a family partner foundation started in memory of Jax Ethan Stone that raises funds for Prayers from Maria. Jax's mom, Tara, shares her story about Jax and how she came to know the Prayers From Maria Foundation:
"Jax Ethan Stone was a happy, outgoing 8 year old boy that loved talking to everyone and anyone that he could. Jax loved playing games on his iPad, DS and WII U. He loved hanging out with his best friend, big sissy Jordan more than anything! They played together often, had sleepovers in each other's rooms and had each other's back! They had a closeness I had never seen before but loved watching! I always said they were like two peas in a pod!
Jax also adored his baby brother Colton. Colton was only 6 months old when Jax was diagnosed so it was tough for many reasons! He loved getting his attention, feeding him and making him laugh! He did not like it when Colton started to walk though. He was extremely jealous that a baby could walk and he was no longer able to. Jax was diagnosed on 9/12/13. We noticed a slur in his speech and that his balance was off. A Cat scan showed nothing so he then had an MRI and we were sent to Pittsburgh to hear the devastating diagnosis of DIPG. My worst nightmare had come true! I was told there was no cure and he had 6-12 months with 9 months being the average to live!? I can not even come close to describing how I felt at that moment other than I felt like I was on another planet! I couldn't talk, cry or respond for many minutes until they said Make a Wish then I lost it! I knew what that meant and knew my life was going to be forever ruined! How could it not be I was going to have to live without my first born son! Jax immediately started treatment. 6 weeks of radiation, we tried a trial chemo pill as well. He also had another 3 weeks of treatment months later. He had good days and bad days! We witnessed things we should never have! We watched his mood swings, weight changes, loss of all bodily functions and eventually we lost our beloved son Jax to this horrible cancer.
It was absolutely horrific and heartbreaking! Jax handled it all so amazingly well! He was so selfless, loving, brave and strong throughout it all! He always put others before himself. He wanted to help other kids and homeless people so we did that for him! He is the reason we do this softball tournament. He made us want to give back! He opened our eyes to so many things we didn't see before! Helping others in his name is what he would want more than anything! We hold 3 events a year and donate to charities that helped him throughout his journey! The softball tournament raises the most and also means the most to me! To be able to donate money to a wonderful organization like Prayers from Maria that is doing all it can to find a cure for this awful cancer that took our children's lives it means a lot!
Our community, our families, his school, teachers and friends fully supported and continue to support Jax! He has benches with his name on them at his school (Tracy) and our local zoo (Erie) which we visited often because he loved animals! He is known of and talked about still to this day (6 years after we lost him) in our area so as he continues to help others I could not be more proud! We have to live without him so him being remembered is all we have now! I actually was made aware of Prayers From Maria way back when Jax was diagnosed. Megan, Maria's mom graciously called me when I was staying with Jax at the Ronald McDonald House in Pittsburgh. I never met her but we talked for about an hour and I felt like I had known her for some time. I will never forget her telling me I would know the moment Jax was going to heaven. I thought that was crazy but 10.5 months later she was right, I knew and she had thankfully told me what to say to Jax in that moment. I will be forever grateful for that conversation! Megan and Ed are like long time friends that we hardly know, but the bond we have because of what we have experienced is unexplainable! I look forward to seeing them every summer at the amazing Sunflower Soiree and Wine Fest! They honor Jax with his picture being displayed at their fields and it means so much! They introduced us to the amazing Kevin Massey (DIPG survivor) that we have stayed in contact with still to this day. He reminds me of my Jax, and I truly enjoy spending time with him at the PFM events! Jax took his last breath on 7/27/14. He was 9. He was healed and that is the only thing I hold onto! He needed to be healed and not suffer anymore, but I wish more than anything he was here with us! He will never be forgotten that I promise you!"